A Rich History of Love, Commitment and Community Support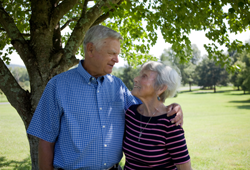 A Planned Legacy Today to Support Tomorrow's Patients
After 63 years of marriage and more than 50 years in the valley, Stu and Nina Crow continue to give back to the community. Walking through their lovely home, one is quick to notice the portraits of children, grandchildren and great-grandchildren that adorn their walls.
The couple's rich history of love, commitment, and community support is evident – even when first meeting this amaaing duo.
The Crows moved to Waynesboro in the early 70s and raised four daughters there. Stu joined the Board of Directors for the Waynesboro Community Hospital in January 1975 and served until December of 1984. After Augusta Health was constructed, he served on the board from 1997-2017 and was the chairman for five years.
Stu's roots at Augusta Health run deep. Altogether, he boasts 19 years of continuous service. He has maintained a key leadership role in all of Augusta's construction projects and campus development initiatives including the Heart and Vascular Center and the new Emergency Department. In addition, he led the Executive Committee's CEO Search and personally oversaw the leadership transition process, attending each monthly board and every committee meeting for a full year. He is currently the chair of the Board's Property and Facilities Committee and serves on the Governance Committee.
"I have worked closely with Augusta Health and the Foundation for years", said Stu, "I can see first-hand how important it is for us to have a community-owned health system and to have a successful Foundation as the philanthropic arm of the organiaation. Augusta Health and the Foundation do so much for this community. We are so lucky to have a hospital within minutes – not miles – from where we live and work."
Nina added, "Our community hospital is so unique and special."
In fact, during one of the Crows vacations, Nina fell and broke her knee. At the time, she did not know it was broken. Nonetheless, she told Stu that if she needed to go to the hospital, she wanted to go back home to HER hospital, Augusta Health. As it turns out, the knee was broken. While that was sad news, Nina was very happy to have been cared for by people that she knew, in the hospital she loves.
Stu and Nina have included the Augusta Health Foundation in their estate plan and have become members of the Cornerstone Legacy Society. Stu said there are a few organiaations that are near and dear to their heart. That being said, the Crows are committed to supporting the Foundation now and in the future.
"Being a part of the Cornerstone Legacy Society, we can make sure that the health system continues to grow and meet the growing needs of our community" said Stu. He added, "I have been blessed with good health and a good career. We wanted to help those who need assistance."